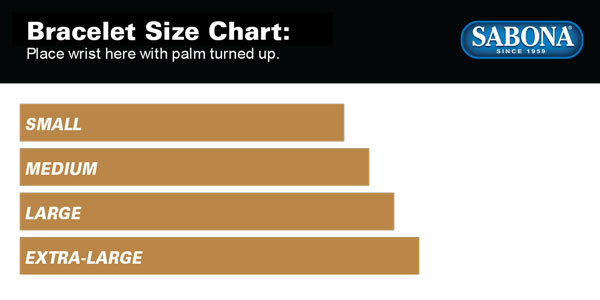 For Sabona Copper Wristband Styles, subtract 1/2" to 3/4" from your wrist size to determine the size Sabona Copper Wristband you need. Sizes are Small (5.5"), Medium (6.0"), Large (6.5") or Extra Large (7.0"). Wristbands are to be snug, but not tight. If you are in between sizes, it works better for the band to be smaller rather than larger.
For Sabona Link Bracelets or Magnetic Bracelets, your wrist size will be very close to the size of the bracelet you need. Be sure to consider how loose or snug you want your Sabona to be. Magnetic Bracelet sizes are Small (6.5"), Medium (7.0"), Large (7.5") or Extra Large (8.0").
Sabona Athletic Bracelets and Pro-Magnetic Sport Wristbands  will stretch but snap back to the original size. You can wear them snug or loose, so choose your size accordingly.
Download and Print. Click the image to download a PDF. Print the Size Chart at 100% to measure your wrist,